4th Ealing Guides Centenary
4th Ealing Guides Centenary



4th Ealing Guides
Celebrating 100 years
100 years ago, on 3 October 1914, 4th Ealing Guides was officially registered by Agnes Baden Powell, the younger sister of Lord Baden Powell. Great Britain has been at war for 2 months, and women did not yet have the vote.
4th Ealing Guides marked our centenary year by looking at guide's role in the past 100 years, shaping the next 100 years and guiding today.
It was appropriate to celebrate our 100th anniversary on 3 October 2014 in St Peter's Hall, our home for the last 100 years. The evening was a celebration of everything we love about guides. It included patrols, crafts, challenges, campfires, marshmallows, meeting new people, promise ceremonies, taps, singing and earning badges. To mark the occasion, everyone contributed to our centenary promise quilt, which our unit will treasure. It was lovely for our guides to receive a message of congratulations from the Queen. It was a wonderful evening, enjoyed by all.
Our celebrations were rounded off, with a truly memorable harvest festival service held at the church. This was our chance to say 'thank you' to the church who has hosted our unit for the past 100 years, and to celebrate our 100th birthday with the community. 4th Ealing guides were joined by 4th & 23rd Ealing brownies and rainbows, to parade with our colours, and have a very special blessing from the vicar and the community for the next 100 years.
Thank you to everyone for sharing our celebration with us and for all the support given to 4th Ealing Guides – looking forward to the next 100 years!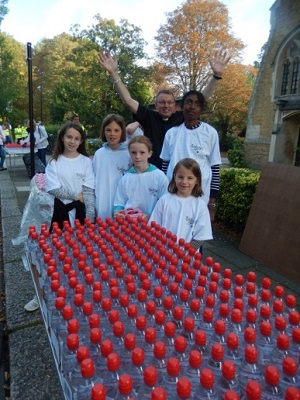 Volunteering at the St Peter's water station for Ealing Half Marathon (Sept 2014)