History
History


Please help to safeguard St Peter's unique heritage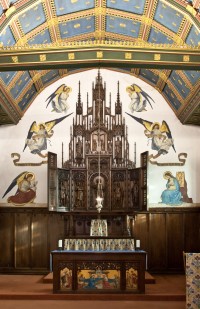 Thought by John Betjeman to be "amongst the noblest churches we possess", St Peter's is a unique fusion of free Gothic and arts and craft styles. The church was designed by John Dando Sedding, architect of Holy Trinity, Sloane Street. Chosen in a competition, Sedding's plans for the church were complimented by The Builder as "a piece of real originality in design, which is refreshing to come across after seeing so many repetitions of old forms, Classic and Gothic". Following Sedding's death, the church was built under the direction of his pupil and successor in practice, Henry Wilson, with the foundation stone laid in 1893 by Princess Helena, Queen Victoria's third daughter.
The church is notable for its unusual sloping roof, and for the turrets flanking the great west window with its delicate tracery. In addition, the wide arches of the four-bay nave with triforium above are highly distinctive. The original structure has been significantly added to, although the planned tower was not built and much of the stained glass and internal decoration were never completed. The effect of this restraint, combined with the generous interior proportions, makes St Peter's unusually light and spacious.
A singular feature of the church is its Lady Chapel, decorated and furnished between 1921 and 1928 as a fitting and coherent memorial to local people killed during World War 1. The scheme includes the painted figures on the east wall executed by Henry Charles Brewer, the carved wooden reredos and painted roof. A project is currently underway to restore the chapel . The church also has hand written Rolls of Honour commemorating the fallen in both World Wars.
"St Peter's Ealing occupies no humble position as a monument to the last great age of church building in this country" – Sir Roy Strong, Historian.