Music remains central to worship at St Peter's. A line of notable musicians including Arnold Grier, Kevin Bowyer, and Paul Ayres have helped shape its tradition. Music at the main Parish Mass is built around a variety of Mass settings, hymns, psalm singing, and choir items..
Recordings of music from St. Peter's:
A setting of the Sanctus for soloist by Mark James b. 1986
Sanctus
Let the bright seraphim (from Samson) GF Handel Arranged for solo organ by Mark James. Sung by Vix Sherliker.
The Choir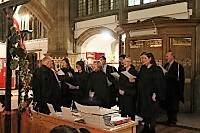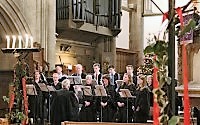 The Sunday choir is augmented by singers and instrumentalists drawn from a variety of backgrounds, including talented members of the congregation, The Royal College of Music, The Royal Opera House, The Menuhin School, amongst others, and enjoys collaboration with a range of ensembles.
Regular rehearsals take place on Friday evening at 6pm and Sunday morning at 9.15am preceding the Parish Mass. New members are always welcome.
If you are interested in joining the choir please contact the Director of Music

Organ
The 37 stop 1893 organ is one of the largest and finest examples of its kind by the London firm, Bishop and Son. Recitalists have included Richard Hills, David Davies, Peter Holder, Richard Pinel, and Sverre Eftestøl. Specification here.
NEW ORGAN VIDEO –
Restoration of the Pedal Trombone is complete!
Click the link to see a new short video documenting the work and outcome. https://www.youtube.com/watch?v=ExvbJOoy6pI
The original pre-restoration video may be seen here. https://www.youtube.com/watch?v=IWEPOAWylEg
If you would like to contribute to the organ restoration work, by way of donation, please contact the office admin@stpeterealing.org.uk.
If you have any questions or comments, Mark would be delighted to hear from you. directorofmusic@stpeterealing.org.uk
The organ voluntaries and some sung solos may now be found on Mark's YouTube channel. Please subscribe and click the bell 🛎 icon to be notified of new uploads. To watch, please follow this link.
https://www.youtube.com/watch?v=gWGe3HZOHho
St Peter's Musicians
Mark James - Organist and Director of Music
Mark oversees all music making at St. Peter's including service music and concerts. Appointed Director of Music in 2011, he previously held positions at Exeter University, HMP Exeter, The Anglican Shrine of Our Lady of Walsingham, and The King's School, Ely (Cathedral School). After five years as a class teacher and two at the Royal College of Music, he graduated with an MSc in Performance Science in 2016, having researched sight reading amongst conservatoire keyboardists. He continues to take an active academic interest in the department and its projects. He presented at the ISPS conference in Iceland 2017. www.performancescience.org/ISPS2017
Mark is becoming increasingly active as an arranger, and composer. He is always interested to hear from potential new members, performers, and of ideas for new projects.

David Blumlein - Choirmaster
David is a well-known figure in Ealing and was for many years Headmaster of Clifton Lodge, a leading boys' prep school. The school was distinctive in having a choir of trebles who rehearsed each day, plus professional lay clerks, operating like a cathedral choir. Beyond presenting a regular round of school services and concerts, the choir made tours of Berlin and Boulogne, and was broadcast by the BBC.
David brings a wealth of experience in sacred music to St Peter's plus a great knowledge of unpublished repertoire which is widely appreciated.