Music remains central to worship at St Peter's. A line of notable musicians including Arnold Grier, Kevin Bowyer, and Paul Ayres have helped shape its tradition. Music at the main Parish Mass is built around a variety of Mass settings, hymns, psalm singing, and choir items..
The Choir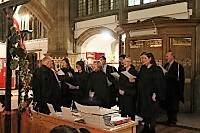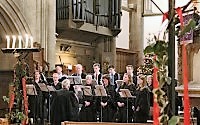 The Sunday choir is augmented by singers and instrumentalists drawn from a variety of backgrounds, including talented members of the congregation, The Royal College of Music, The Royal Opera House, The Menuhin School, amongst others, and enjoys collaboration with a range of ensembles.
Regular rehearsals take place on Friday evening at 6pm and Sunday morning at 9.15am preceding the Parish Mass. New members are always welcome.
If you are interested in joining the choir please contact the Director of Music


Organ
The 37 stop 1893 organ is one of the largest and finest examples of its kind by the London firm, Bishop and Son. Recitalists have included Richard Hills, David Davies, Peter Holder, Richard Pinel, and Sverre Eftestøl. Specification here.
St Peter's Musicians
Mark James - Organist and Director of Music
Mark oversees all music making at St. Peter's including service music and concerts. Appointed Director of Music in 2011, he previously held positions at Exeter University, HMP Exeter, The Anglican Shrine of Our Lady of Walsingham, and The King's School, Ely (Cathedral School). After five years as a class teacher and two at the Royal College of Music, he graduated with an MSc in Performance Science in 2016, having researched sight reading amongst conservatoire keyboardists. He continues to take an active academic interest in the department and its projects. He is due to present at the ISPS conference in Iceland 2017. www.performancescience.org/ISPS2017
Mark is becoming increasingly active as an arranger, and composer. He is always interested to hear from potential new members, performers, and of ideas for new projects.

David Blumlein - Choirmaster
David is a well-known figure in Ealing and was for many years Headmaster of Clifton Lodge, a leading boys' prep school. The school was distinctive in having a choir of trebles who rehearsed each day, plus professional lay clerks, operating like a cathedral choir. Beyond presenting a regular round of school services and concerts, the choir made tours of Berlin and Boulogne, and was broadcast by the BBC.
David brings a wealth of experience in sacred music to St Peter's plus a great knowledge of unpublished repertoire which is widely appreciated.

Douggie Ashby - Organ Scholar
Douggie is a lifelong member of the St Peter's community, having been christened here on Easter Sunday, 2000. He is an A Level student and music scholar at St. Benedict's School, Ealing, and plans to study music at university. Douggie is pleased to have been given the opportunity to learn the organ at St Peter's and participate in the musical life of the church. He is already an accomplished pianist and tuned percussionist, achieving Grade 8 Distinctions in both when he was only 15. He enjoys classical and jazz piano, and has been a percussionist in the Ealing Youth Orchestra since 2014.
Alongside his active life in music, he is also an accomplished fencer and St Benedict's sports scholar, and fences for Great Britain (currently at U17 level), which sees him compete regularly around the country and abroad.