Pebbles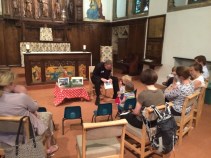 Pebbles


'Pebbles' is St Peter's newest service which is specifically for pre-school children - those aged from 0-5 years. The service is held on the first and third Sundays of the month (except August), and takes place in the Lady Chapel for 15-20 mins with a snack afterwards in the Hall. If you'd like to join us, please arrive at 9am for a 9.15am start. We hope to see you soon!
Pebbles will be held on the following dates:
Sunday 6th January 2019
Sunday 20th January 2019
Sunday 3rd February 2019
Sunday 17th February 2019
Sunday 3rd March 2019
Sunday 17th March 2019
Sunday 7th April 2019
It would also be wonderful to see any Pebbles at the Family Masses which are on the 13th January, 10th February and 31st March (which is Mothering Sunday).
Pebbles will start again after the Easter break on Sunday 5th May 2019.