BEST FEET FORWARD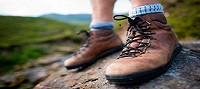 BEST FEET FORWARD


Sunday 13 June - Five Spiritual Journeys via Ealing, 2 to 2 ½hours approx. Meet 2.30 p.m. in St Peter's Church Carpark. Leader: Mike Tiley.
Contact No. on the day: Rosanna's mobile 07599 789866
Join us for an informative walk around Ealing. There are five well-known spiritual teachers/writers who have spent some important part of their lives in Ealing and gone on to inspire many in their own spiritual journeys. Saint John Henry Newman, Dorothy Kerin, Christmas Humphreys QC, Thomas Merton and John Main.
Mike Tiley is going to lead us round the various places they were in Ealing and inform us a little about their lives.
We are hoping to finish with tea and cake at the end of the walk.
Please let us know if you wish to partake as booking is going to be essential. Contact Mike Tiley directly or email – rosanna32@btinternet.com.