Angels in Ealing
Angels in Ealing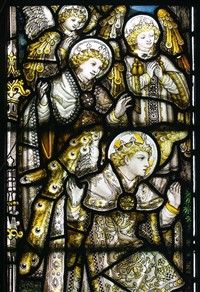 This summer St Peter's is restoring its beautiful Lady Chapel, decorated and furnished in the 1920s by leading designers and craftsmen, many of them from Ealing. We are hosting a programme of events to celebrate the Chapel's reopening and to enable you to explore its fascinating history.
Saturday 1st October Morning
10.00am - 10.15am
Community Opening Ceremony: Everyone welcome.
10.15am - 11.30am
Open Morning: Including tours, displays, teas, jam and cards for sale, and children's activities.
11.30am - 12.15pm
Opening Talk: Henry Charles Brewer: Art & Ancestry in Acton by Alison Saunders. Join Alison as she takes us on a journey through the life and work of Henry Charles Brewer, the highly accomplished Acton-based watercolour artist who created the extraordinary wall paintings in our Lady Chapel.
The event is free and donations are encouraged. Click here for more information.
Saturday 1st October Evening
7.00pm - 9.00pm
Talks & Book launch:
Angels in Ealing by Susan Peatfield. Susan will discuss her new book exploring the men and women who came together to build and beautify St Peter's and its Lady Chapel.
Shining a Light on a Lost Pre-Raphaelite by Sarah Hardy, Director of the De Morgan Foundation. As part of our Lady Chapel restoration, St Peter's is conserving a fine painting by Edward Arthur Fellowes Prynne, once among the country's best known decorative artists and portraitists. Sarah, an expert on the Pre-Raphaelites, will introduce us to this overlooked and fascinating Ealing artist and his St Peter's painting.
The event is free and donations are encouraged. Click here for more information.
Sunday 2nd October Morning
10.00am – 11.15am
Sunday Mass & Chapel Blessing Ceremony followed by celebratory drinks. All are warmly welcome.
To learn more about and to support to the project, please visit the project page